V. Protective Clothing Articles
1. Overall water-proof garment
2 Static-proof work clothes
3. Temperature-resistant and heat-insulation gloves
4. Acid-proof heat-insulation leather work clothes
5. Heat-resistant aluminum foil exposure suit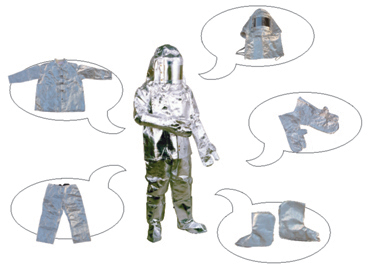 Features: Reflectivity of radiation: Reflecting above 90% radiation heat
Enduring radiation for one hour at 572oF and enduring radiation heat for thirty minutes at 932oF.
6. Acid-proof and alkali-prevention work clothes
7. Hard Hat with Veil (V Headgear)
Features: The V structure of the cap could strengthen the shock resistance and anti-penetrating capacity of the hard hat.
The liner of the hard hat is made of excellent top quality polyurethane materials, and hence has outstanding air permeability and sweat suction.
It is comfortable to wear, suitable to match the exposure suit for the face and ears.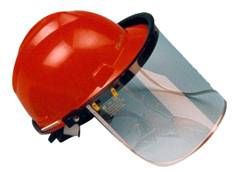 8. Shock-resistant Safety Goggles
Features: Excellent transparency and able to endure the impact of a steel ball with the 6mm dimension at a speed of 45m/s.
Band Cup Goggles
Materials of glasses are excellent plastic and equipped with complete polycarbonate lens
These goggles may help to more effectively avoid damage to eyes caused by flying debris and may also help to better prevent fog and chemical mediums from stimulating eyes. Designed to better prevent condensation of vapor from influencing vision.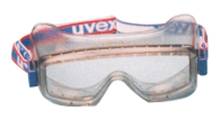 9. HB25 ear muffs (Shengdi Company), Performance grade: noise reduction of up to 25-decibels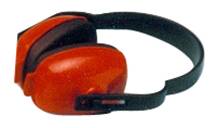 10. OLS Toolbox
Special Equipment for Pressure Sealing Construction